Steadman Named HBAA Associate of the Year
BIRMINGHAM, ALABAMA -- Mary Steadman of Birmingham has been named the Home Builders Association of Alabama (HBAA)'s Buddy Berry Associate of the Year for 2019.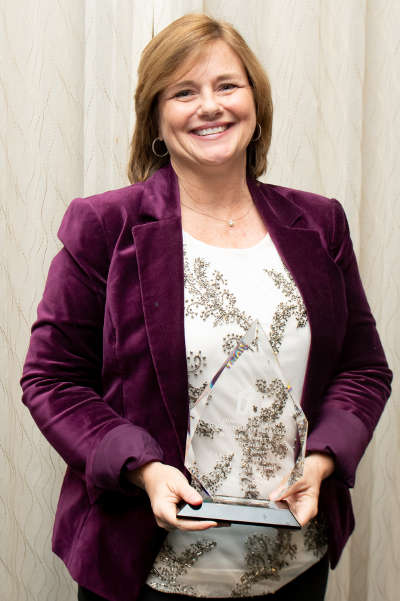 Steadman was honored during the HBAA's Convention awards presentation on October 25 at the Hilton Nashville Downtown in Nashville, Tennessee. The Buddy Berry Associate of the Year Award recognizes an associate member from a local association with more than 500 members who has shown outstanding service to their local and state associations, their community and the building industry as a whole.
Steadman, of Land Title Company of Alabama, has been a member of the Greater Birmingham Association of Home Builders since 2002 and has served in numerous capacities there, including chairing its Associates Council, Membership Committee and Professional Women in Building Council. At the state level, Steadman is actively involved in the HBAA's Professional Women in Building Council, as well as its Membership, Governmental Affairs and Associates Committees. From 2015 to 2018 she served as the National Association of Home Builders' Professional Women in Building Area Trustee for Alabama and Tennessee.
"We are so proud of Mary. We can never thank her enough for her tireless dedication to our association. It is always such a wonderful thing to see our members recognized for their accolades, especially when they are so deserving such as this one," said Alicia Vincent, Executive Director of the GBAHB.
For more information about the Home Builders Association of Alabama, call (800) 745- 4222 or visit www.hbaa.org. For more information or to schedule an interview with a representative or member from the Greater Birmingham Association of Home Builders, please contact Heather Jeffcoat at 205-515-1972 or by emailing hjeffcoat@burtonadvertising.com
###
The GBAHB is the sixth largest local homebuilders association in the nation, representing more than 1,300 members in the Birmingham area. For more information about the GBAHB call 205-912-7000 or visit www.birminghambuilder.com. To interview a representative from the GBAHB contact Heather Jeffcoat at 205-515-1972 or by emailing hjeffcoat@burtonadvertising.com